Hillside on Greenfield Hill
March 7, 2013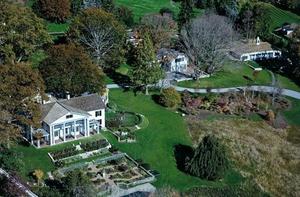 For nearly 200 years, this architectural masterpiece has been a commanding presence overlooking the Greenfield Hill green. This beloved historical estate has emerged miraculously transformed by its present owner and is a triumph of stunning detail, timeless style, infinite livability and quiet privacy. Intricate wrought iron gates open to nearly six private acres of glorious gardens that define the landscape with deft symmetry and lavish color and texture.
The main residence is a treasure consisting of 4 bedrooms and 6.1 baths, select woods and marbles, exquisite detailed millwork, museum quality fixtures and top notch amenities. On view from the orangerie is a fabulous, 2 bedroom guest house/carriage house. Beyond, the former stables have been renovated into a fantastic, fully equipped party barn.
Every considered choice is correct. Sublime symmetry lends order as its elegant décor exhibits the whimsical and wonderful.
Hillside…..it is perfect and beyond beautiful.