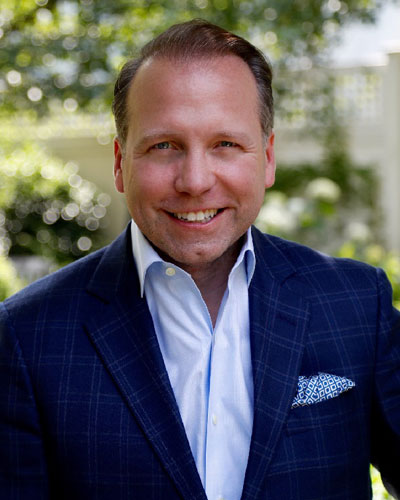 Mar Jennings

President, MARketing Director
Mar Jennings

President, MARketing Director
Mar Jennings Team
Mar Jennings Real Estate
Westport Office
America's Top Lifestyle Expert has a license to sell.
Mar Jennings is a five-time Emmy® nominated television show host, entrepreneur, philanthropist and influencer. He is the bestselling author of 2 books, and is known as America's top lifestyle expert. Millions of people rely on Mar Jennings as a source of useful "how-to" information for all aspects of everyday living—décor, gardening, home renovation, real estate and healthy living. Currently, the Mar Jennings brand reaches approximately 1 million consumers each month across all media platforms.
"We confidently market and sell your home by highlighting its key assets and lifestyle appeal. We see beyond the four walls to help you envision potential. Buyers take notice because our approach helps them easily imagine their new lives."
Real Estate goes far beyond finding a home in your price range or finding a buyer for your property. It's about discovering the perfect home that fits and enhances your lifestyle. So why not let America's Top Lifestyle Expert—who is also a native Westport resident—help you achieve your lifestyle goals when it comes to buying or selling your next home.
Home-Grown and Home Savvy:
Growing up in Westport, CT, and building his brand from his Westport home, Mar Jennings' intimate knowledge of Fairfield County—one of the most affluent parts of the country—gives Mar a professional edge. Through decades of participation in good-will events and promotions he is organically connected to the community, the right contacts and the right resources in the local and national markets.
Uncovers Hidden Potential:
Of course, as America's Top Lifestyle Expert (and author of the best-selling interior décor guide LIFE ON MAR'S: Creating Casual Luxury), Mar lends his incredible skills and instinct to the real estate process in a unique way. He and his Casual Luxury brand has been featured in numerous national media, including The New York Times, The Wall Street Journal, Page Six, The Today Show, the Better Show, and Martha Stewart Radio. With over a quarter of a million followers on social media, Mar helps set lifestyle trends—while keeping a pulse on emerging needs. The result: a truly one-of-a-kind, invaluable extra benefit. His ability to visualize, both indoors and out, whether during a walk-through of a home or prepping for an open house, will inspire clients to leverage their home's potential like never before.
Financial Background means he knows Dollars and Sense:
Mar also has a great working knowledge of home finance. After winning gold medals in regional and sectional US figure skating, he pursued a career in banking, quickly making a name for himself, and ultimately becoming a Senior Vice President with direct overall management responsibility for the entire state of Connecticut. Eventually, Mar decided to combine his corporate and creative passions, and while his career as a author and lifestyle expert rapidly grew, Mar has maintained extensive client relationships in every one of his ventures by continuing to be available to them and visible in the community.
Results-Oriented and Client-Focused:
Mar achieves success by focusing on results. His hands-on approach and self-motivation skills result in one-of-a-kind marketing initiatives. He is an expert in negotiation, sales management, lead-generation, and developing associates, sales teams and assistants. His outstanding people and networking skills, along with local and national media connections, make Mar Jennings a lifestyle brand you trust.