Julie Vanderblue

REALTOR®

As President of The Higgins Group and CEO of The Vanderblue Team, a 35 member Top Producing Real Estate Team covering Connecticut, Julie has created a unique combination of specialists dedicated to raising the standards that consumers should not only expect but should demand. By combining their efforts, The Vanderblue Team is able to offer more skill, creativity and experiential knowledge in buying, selling, renting, and investing in Real Estate. Vanderblue Divisions include Geographic Specialists covering all of Fairfield and New Haven Counties, First Time Home Buyers, Urban to Suburban, Divorce & Separation, Move or Improve, Downsize with Distinction, Organize by Design, Invest Blue, Senior Lifestyles and more. Having sold more homes in Fairfield County than any other Team in CT year-over-year, it is only with committed and dedicated team members that we can offer more value and skill to our clients, friends, and families in Fairfield and New Haven Counties.

People ask me how I have become so successful in this very competitive industry. I truly believe that it is because I have chosen to surround myself with a TEAM of positive minded, creative and passionate professionals who are committed to offering more skill and service to our deserving clients. I feel that when you do things for the right reasons, it shows and you cannot help but shine."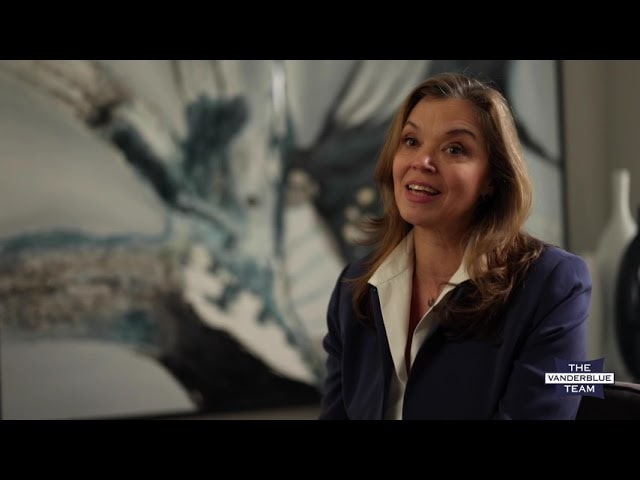 ClientReviews
Julie Vanderblue and her team helped secure an amazing space for our organization, giving it a more professional look and easier access for our members. The new space allows the Chamber to not only sustain our business, but expand and grow. The Vanderblue Team is extremely community oriented and very involved in not only the best interests of their clients, but also the communities they serve. As President of the Fairfield Chamber of Commerce, we are grateful that Julie is a member of our Board of Directors, and we see firsthand, her passion for Fairfield.
Beverly A. Balaz | President, Fairfield Chamber of Commerce
I can speak very highly of my experience with Melissa and Julie of the Vanderblue Team. They are consummately professional, seasoned and knowledgeable of the Fairfield County real estate market. I was particularly impressed with their team of resources for preparing a house for market -- from cleaning - staging, and they did a fantastic job. The written materials that they prepare (brochure, seller testimony, etc) are very thorough, and their internet listings utilize state of the art tools to give the max exposure.
Binnie Klein
Julie Vanderblue is exceptional. Rarely have I had someone interact with me in a B2C capacity where I walked away every time feeling they cared about me and my family on a personal level and would do whatever it takes to simplify the home buying process. She is responsive, kind, and an exceptional listener - all of which make her so good at what she does. Julie has proven repeatedly that she will go well beyond what is 'required' in house hunting to help achieve what is 'needed' in this market [...]
Kelly Briggs
Julie Vanderblue is incredibly dedicated, never stops working to ensure that her clients are fully represented and satisfied, and is a pleasure to work with! If you ever want to witness inspiration in the flesh, Julie is always coming up with great ideas and making them come to life. She and the Vanderblue Team is the best!
Alex Vishno
I can't imagine anyone better. Julie and her team not only sold my house in a wink, she helped me get way more than I hoped for! If there were a ten star rating, the Vanderblue team would get it!!
Robert La Valle