Fans of Jane Austen and other novels set in the Georgian era will immediately fall in love with this historic home. Also known as the George Knapp House, the property is a charming single-family residence with beautifully restored features and a sizable outdoor space.
The George Knapp House is a classic Greek Revival house that dates back to the mid-19th century. It is located on 5 Knapp Street in Easton, CT. It is listed at $850,000.
Features
Exterior

Architectural style: Greek Revival
Lot size: 3.04 acres
Total size: 3,300 sq. ft.
Prominent features: Doric columns, granite terraces, detailed woodwork, patio, French doors, with beach rights.
The George Knapp house features a wood shingle roof. Storm windows are prominent energy features.
Exquisite landscaping roll out to a spacious outdoor area for parties and more.
The Knapp House also comes with a banked barn, which you can use however you like.

Interior

No. of bedrooms: 4
No. of bathrooms: 2 full baths, one half bath
Kitchen appliances: Sub Zero refrigerator, Wolf 6 burner stove, ice maker, dishwasher, dryer.
Kitchen features: The kitchen wing is spacious, with features such as stone floors and decorative Brazilian granite and mosaic marble. Custom woodwork are more elegance to the already opulent room.
The George Knapp house comes with additional space for at least two more bedrooms and another full bath.
The lot comes with two garage spaces and a basement for more living and entertainment space.
A new basement with 9-feet ceilings has been added– a unique feature among antique properties.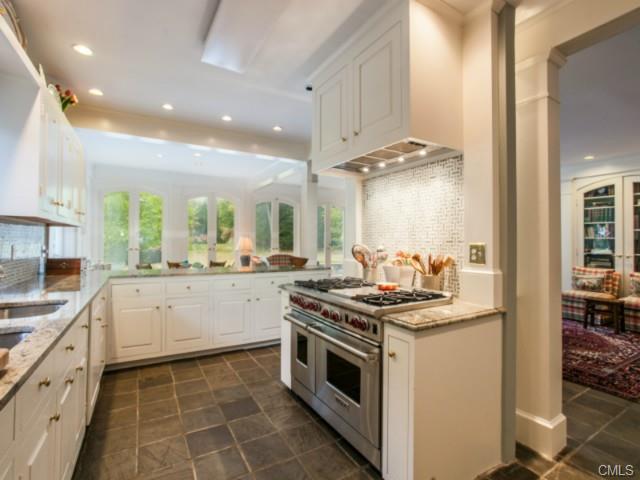 What's nearby?
Families with school-age children will love the George Knapp house as it's within close proximity to Samuel Staples Elementary School, Hellen Keller Middle School, and Joel Barlow High School.
Community amenities found in the area include a shopping mall, a health club, a medical facility, as well as a recreational park and a playground. The area is also a well-known hub for artists and highly accessible from New York City.
Fancy a tour of the property? You can take a virtual look here. For more information about the George Knapp house or to schedule a viewing, you can directly contact Victoria Wren at 203-254-9000 or Susan Leone at 203-209-2075.
Explore the area and read our Easton, CT town profile here.
Other Links:
Towns
Bethel, CT
Bridgeport, CT
Danbury, CT
Darien, CT
Easton, CT
Fairfield, CT
Greenwich, CT
Milford, CT
Monroe, CT
New Canaan
Newtown, CT
Norwalk CT
Redding CT
Ridgefield CT
Shelton, CT
Stamford, CT
Stratford, CT
Trumbull, CT
Weston, CT
Westport, CT
Wilton, CT