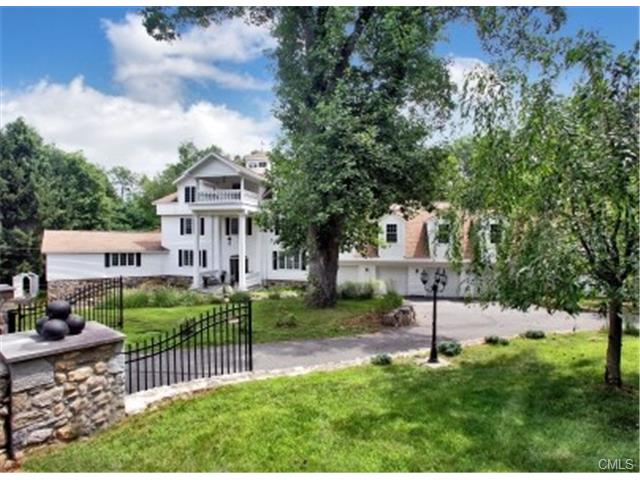 Built in 1992, this white Colonial home originated from a small cottage and eventually expanded to become the luxury property it is today. The home is perfect for entertaining friends and family– wander inside and find a banquet-size dining room, the ideal spot for celebrations and gatherings. Multi-use rooms can be converted into guest spaces, while you can continue the party outdoors in the greenery.
11 Steep Hill Road is located in the neighborhood of Lower Weston in Weston, CT. This lovely single-family residence is currently listed in the market for $899,000.
Features
Exterior

Architectural style: Colonial
Lot size: 2 acres
Total size: 7,263 sq. ft.
Prominent features: French doors, balconies, deck, two garage spaces, asphalt shingle roof, palladium window, and a wooded outdoor area.
The lushly landscaped outdoors can easily your favorite part of the property, with enough trees for privacy and solitude.
The home's white paint makes it easily distinguishable in the neighborhood.

Interior

No. of bedrooms: 5
No. of bathrooms: 4 full baths, 4 half baths
Kitchen appliances: Cook top, washer, dishwasher, wall oven, freezer, refrigerator, microwave
Kitchen features: Spilling into a breakfast room, the kitchen features custom cabinetry, top-of-the-line appliances, a wet bar, and a wine cooler. The kitchen counters are made with limestone, while the breakfast bar is the place to be for pancakes and waffles.
The master bedroom boasts a beautiful hardwood floor. A walk-in closet and a full bath complete the package.
Hang out at the den– transform it into a study, a recreation room, or simply a place where you can relax.
What's nearby?
11 Steep Hill Road is located a short distance away from Weston's top-performing schools. These institutions include Hurlbutt Elementary School, Weston Middle School, and Weston Middle School.
Amenities in the neighborhood include a pool, a children's playground, a park, and a library.
Schedule a viewing today or explore the property thanks to the wonders of technology. A virtual tour of 11 Steep Hill Road is available here. You can also get in touch with Ruta-Leo Associates directly at 203-291-7675 or rutaleo(at)higginsgroup(dotted)com.
For more information about the area, check out our Weston, CT town profile.
Other Links:
Towns
Bethel, CT
Bridgeport, CT
Danbury, CT
Darien, CT
Easton, CT
Fairfield, CT
Greenwich, CT
Milford, CT
Monroe, CT
New Canaan
Newtown, CT
Norwalk CT
Redding CT
Ridgefield CT
Shelton, CT
Stamford, CT
Stratford, CT
Trumbull, CT
Weston, CT
Westport, CT
Wilton, CT